Portrait Of the Artist As An Old Woman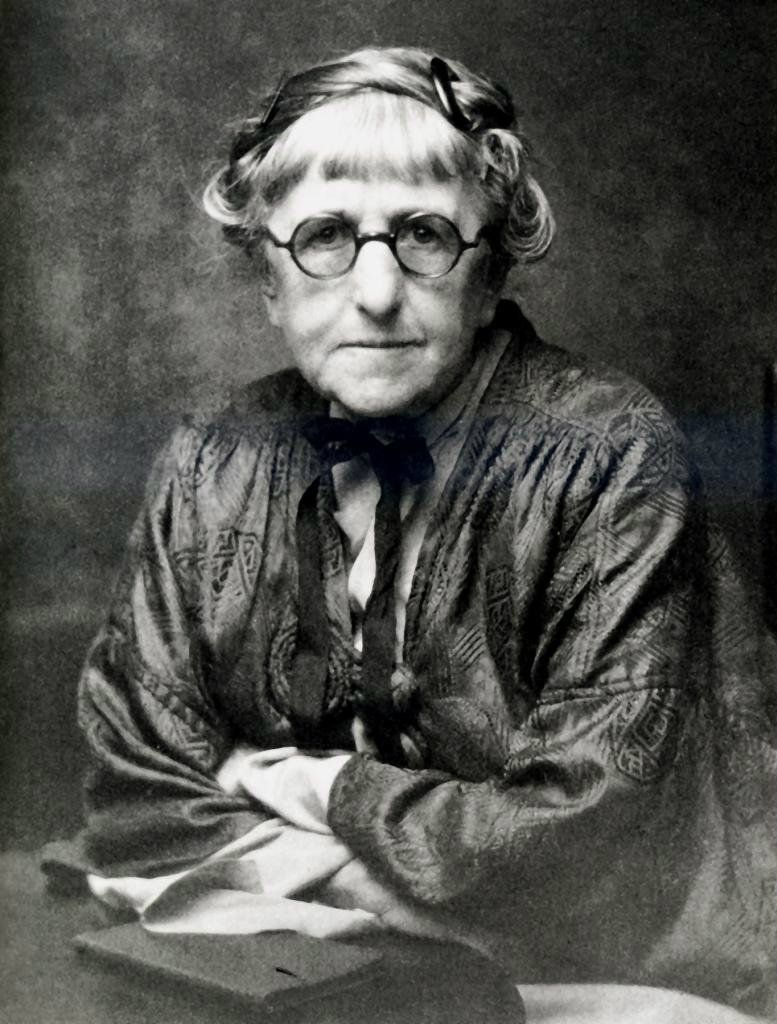 Kasebier went from conventionally corseted matron to being a photographer so utterly careless of dress or appearance that she might emerge suddenly from the darkroom into a group of fashionably dressed patrons enveloped in a voluminous and badly stained developing apron. As she aged, her loose individualistic attire included pale gray silk Chinese blouses, Chinese jackets, black broadcloth skirts, and a cape over all. She worked not only for economic independence, but like many women of her day for self-expression. In addition to encouraging individual women photographers throughout her career, she was a founder of the Women's Federation of Photographers Association of America.
The above photo is enough to make me want to know Gertrude Kasebier, and Michaels's biography is a good place to start. A few disappointing reproductions, but overall a big, gorgeous book and a fascinating read, and it's as much about the art and business of photography in Kasebier's day as it is about herself.
Whether as document or art, photography was the mass media of the early twentieth century, influencing social and political perspectives much like broadcasting does today. Kasebier was an artist first but also a reformer, known for brilliantly blending authentic representation and symbolic artistry, mostly in portraits. She was a peer of Alfred Stieglitz in the photo-secessionist movement and a leader in what became known as "the new school of American photography." An art critic noted:
If ever that elusive autographic quality that critics so insist upon as necessary to real works of art could be found in a photograph it can be found in her prints. If any proof were required of the power of the camera to express personality, Mrs. Kasebier's work would be enough.
This was first evident in her portraits of mothers and children. The latter are often animated, reaching, exploring, while being encouraged by affectionate mothers holding them forth or leading them on or letting them go. Kasebier upstaged the demure styling of women's portraits with a variety of settings and attitudes intent on displaying personality. Whether strictly business or frankly sensual, the photographs are aiming for women as individuals not stereotypes.
This is true of her Native American photographs as well, which are among the few that depict Indians in candid settings or smiling.
The child of a wealthy builder who got rich off the gold rush, Kasebier grew up in Iowa and Colorado around Indian reservations and with Indian friends. At an early age she recognized prejudice and opposed injustice and aspired to a humanistic ideal of mixed cultures and open minds. One of her most famous subjects, Zitkala-Sa, also known as Miss Simmons, became an icon of that ideal. A Lakota woman who spent her childhood on the reservation, Zitkala-Sa attended Eastman College, won an intercollegiate oratorical contest, became a renowned violinist, taught at the Carlisle Indian School, and happened to be beautiful.
The Carlisle school's objective was assimilation via the eradication of Indian culture, but Zitkala-Sa refused to deny her Lakota heritage and lobbied for Indian rights. No one denied her intelligence or integrity, but it was said that anyone would listen to her about anything just to have a chance to look at her, and Kasebier capitalized on that interest. She wanted portraits that captured Zitkala-Sa-Miss-Simmon's dual identity and determination as well as her beauty, and for a while it seemed that the women's combined influence might actually change the balance of power in the Lakota's favor. As usual, however, a lot of talk resulted in little action and great disappointment for the Indians. Zitkala-Sa abandoned white society and returned home in hopes of more directly making a difference in reservation life.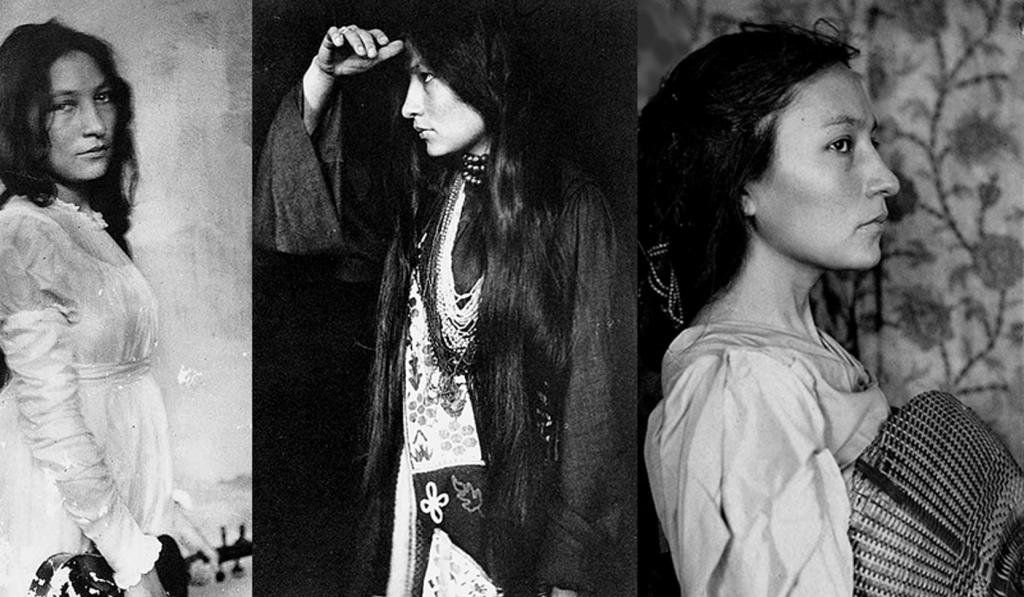 In 1889 photography was considered a proper hobby for women, but Gertrude Kasebier had had it with hobbies. Raising her children -- a son and two daughters -- had taken most of her time for years, but her youngest was nine and old enough to get along in a prosperous household without constant attention. What her children, especially her daughters, really needed, Gertrude said, was a proper role model, meaning a woman who insisted that her talents and ambitions be taken seriously. Painting was her first love, and so insistent was she on returning to it that her husband, Eduard, moved the family from New Jersey to Brooklyn so she could attend the Pratt Institute, one of a handful of schools known for treating women as serious students.
Eduard Kasebier made a small fortune in the shellac business and willingly funded his wife's education, in part to get her off his back. They had married in haste when Gertrude was on the rebound and he was wanting a wife, and other than their children they had little in common, least of all an interest in the arts. Neither considered divorce an option but they agreed, amicably, to live as independently as possible while continuing to provide a stable home for their children.
At age 37 Gertrude Kasebier commenced studying painting at Pratt, and in the process became more interested in photography. To involve her children in her pursuits, she turned a room of their spacious Brooklyn home into a Rathskeller, where Pratt instructors and students gathered to dine and socialize. She also established a scholarship fund on the grounds that no one should be denied an education because of gender or finances. A long and lauded career ensued during which she was a mentor to many. Despite going deaf she lived to be a contentious and content old woman, as so endearingly pictured above in the 1930 portrait by Hermine Turner.